Enriana wrote: Of course, they're smaller - I didn't realize how much until seeing them side by side - which I'm not a fan of, but a lot of the shading/lines/posing is much better.
They're actually much bigger on the pet lookups!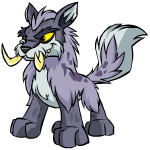 The little versions we're voting on are the size that would appear on the userlookup.
I voted mostly new, although there are some pets I believe look much better in the old versions -- lutari, for example, because it
should
be swimming; pteri, because the new one's raised "wing o' doom" just looks ridiculous; xweetok, because again, the raised fist looks unnatural and stupid. But most pets were improved by customization, in my opinion. I'm probably happiest about the eyrie (whose stupid back wings were finally fixed), peophin and elephante.