SO. I traded my UC plushie shoryu for the beautiful UC plushie aisha, Kilianya.
On Kilianya I have an offer of a very well named UC RB Cybunny.
Now I'm just not sure whether to keep or trade.
My accounts are:
Astriell: (fae)
UC Fae Lenny, UC Fae Peo, UC Fae Pteri, UC Fae Xwee
Sequins: (grey/dari)
UC Grey Gelert, UC Dari Peo, UC Grey Aisha, UC Dari Cy
Stariell: (main)
UC RG Kyrii, UC RB Kyrii, UC Dari Draik, lab pet
SO they're all kind of themed. Arcana and Shenkuu used to look like this:
Arcana: (Royal)
C RG Acara, UC RB Acara, UC RG Aisha, UC RG Cybunny
Shenkuu: (plushie)
C Plushie poogle, UC Plushie Shoyru, C White Lupe, UC Plushie Ixi
----
But as of right now Osnia my UC RG Aisha is on Shenkuu and my UC Plushie Aisha is on Arcana.
Now, depending on whether I go for the UC RB Cybunny or keep my plushie aisha, my accounts will end up looking either like this:



+


OR like this:



+


So, one keeps the account themes intact, the other gives me three royal pairs (as i have a royal pair of kyrii on my main).
I was really hoping to get offered either of these pets for dragon, I just didn't realise I'd end up with a choice of either.
What do you think, NC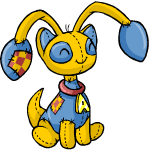 or